Looking back at my post of the Tic Tac Dough dragon a few days ago got my mind going on all the game shows I used to watch growing up. Nothing would make me happier than for daytime TV to return to a game show filled schedule. Joker's Wild, Card Sharks, Blockbusters, Hot Potato, Deal of the Century, Tic Tac Dough, Match Game....the list goes on. I could easily spend 24 hours straight watching old episodes of these shows. At least The Price is Right is still on.

I kind of like Drew Carey as the new host. He's still a little green when it comes to hosting: he doesn't explain the rules of the games that well and doesn't have quite the level of contestant rapport that Barker had, but I think he'll get there. I do miss some of the games though. Penny Ante was my favoirte, where the contestant had to guess the right price for an item and pushed the button lighting up a row of pennies with the sound "BBBBBBRRRRRRRRRRRRRRRRRRRRRRRRRRRRRRRRUP!" to reveal a yes or no answer. Hurdles was also a favorite, probably why I became a hurdler in high school.

However, there is one game on TPIR that I have never been a fan of, and have still never understood it's appeal.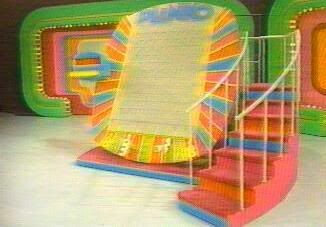 I truly fail to get Plinko. When a contestant is shown a car as a prize, I fully expect them to jump and whoop around the stage. However, whenever Plinko is announced, the contestant goes even crazier, as if a genie has granted them as many wishes and he/she can wish.

Plinko is one of the few games on TPIR that doesn't require some type of skill, it's purely a luck based game. The chip can be placed anywhere on the board and has a chance to go anywhere, like an old pachinko game. First, the contestant has to win Plinko chips, otherwise they only get 1 chip, so the possibility immediately exists to earn much less than $50000 if the contestant can't price. I've seen people miss on 2 or 3 chips and therefore start off being able to earn much less. I've seen people drop 3 or 4 chips into the $0 slot, walking away with almost nothing. In fact, most of the Plinko games I watch end up with the contestant winning $5000 or less; which is no great shake. According to Wikipedia, the most anyone has won on the $50000 Plinko board (replacing the $25000 board in 1998) is $30100. Good for them, so they earned 60% of the maximum total, not the greatest percentage. I just don't like the idea of a game where it's possible for the contestant to get all the Plinko chips and still be able to walk away with $0. Even in Punch-A-Bunch, the worst a contestant can do is $50.

I guess the thought of a possible $50000 is enough to make people spazz out. I'd rather play Hole in One-Or Two!

(Totally unrelated thought: How awesome would it be to have a TPIR Game Show Host Guest Host week? If Drew Carey ever goes on vacation, have old hosts like Monty Hall, Tom Kennedy, Wink Martindale, Jim Perry and Richard Dawson come in to each do a show. That I wouldn't miss.)